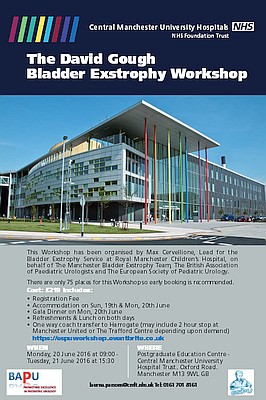 In 1999 the British Association of Paediatric Urologist together with the Ministry of Health agreed to centralise the treatment of exstrophy in the United Kingdom into two units:  the Royal Manchester Children's Hospital and Great Ormond Street in London.  Since then the two units have developed significant experience in the treatment of exstrophy.  Considering the challenges that paediatric urologists still face in 2016 when dealing with exstrophy, the Manchester exstrophy unit has organised the first David Gough Exstrophy Workshop which will be held in Manchester on the 20th  and 21st June 2016 just before the ESPU annual meeting in Harrogate.  The workshop is limited to a relatively small number of delegates to allow an interaction between with the world-class faculty which has agreed to take part in this workshop.
The meeting is also an opportunity to remember our former colleague and friend David Gough.
The venue of the meeting is within the Royal Manchester Children's Hospital campus and within the registration fee the organisers have included two nights hotel accommodation at the new Travelodge located opposite the campus.
On the 20th June 2016 in the evening, the attendees and the faculty are invited to the gala dinner which will be held at the Manchester Museum (http://www.museum.manchester.ac.uk) which is walking distance from the campus.  The Gala dinner is included in the registration free.
Transportation has been organised to take the delegates to the ESPU meeting at Harrogate after the workshop.  There will be an option to stop at Manchester United football club at Old Trafford (http://www.manutd.com) or The Trafford Centre Shopping Centre (http://intu.co.uk/traffordcentre) on the way to Harrogate.
The Manchester Exstrophy Unit, the British Association of Paediatric Urologist and ESPU together with the meeting faculty, colleagues and friends look forward to seeing you in Manchester for the first David Gough Exstrophy Workshop.
Max Cervellione
Lead for the Bladder Exstrophy Service at Royal Manchester Children's Hospital, Manchester, UK